Business Awards
2023 Chamber of Commerce AGM and Business Excellence Awards
2022-23 Business Excellence Awards Nominations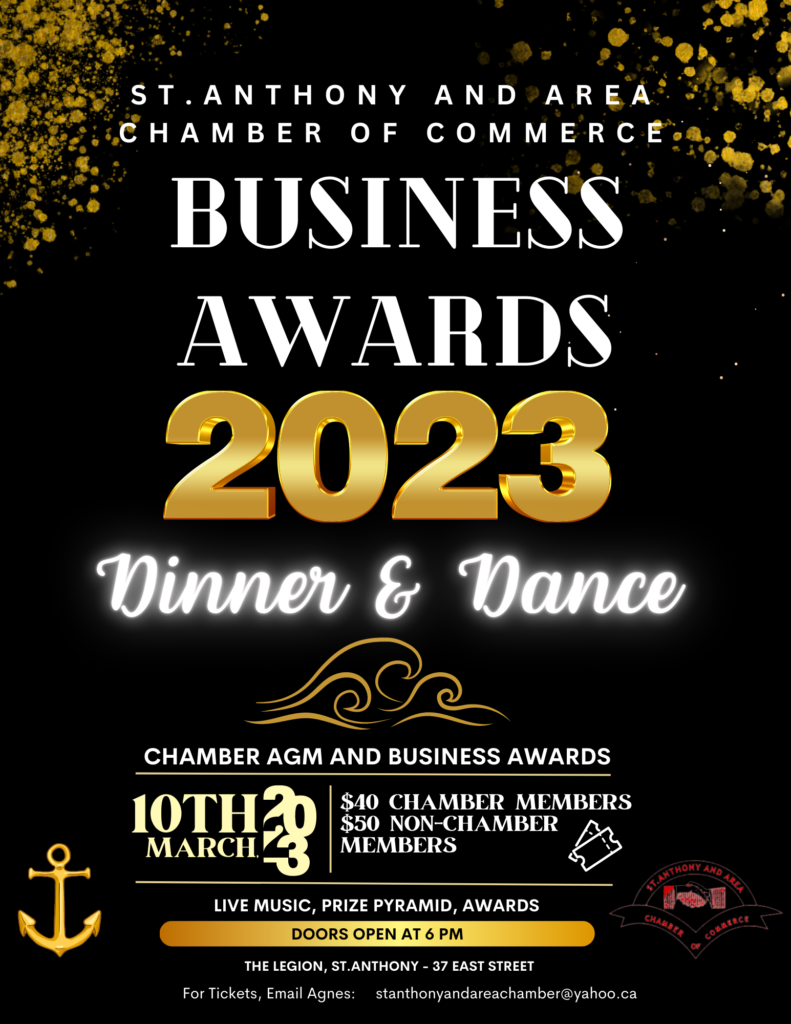 Nominations Details!
The St. Anthony and Area Chamber of Commerce is excited to open the call for nominations for our 2023 Business Excellence Awards.
Help us celebrate businesses on the Great Northern Peninsula. The hard-work, leadership, and success. We encourage everyone to tap into this opportunity to learn about businesses here at home, success stories and new opportunities.
The nomination process is simple – fill out this form below to nominate a business (remember this could also be an employee! And about businesses that are going above and beyond).
****The nominee must be a member of the St. Anthony and Area Chamber of Commerce. But nominations can be made the by the public, excluding the Chamber's Choice award.
DEADLINE FOR NOMINATIONS: Nominees open Monday, Jan 30thand close Monday, Feb 13th
About Our Awards
The St. Anthony and Area Chamber of Commerce is excited to celebrate our thriving business community, and welcome new members. Join us Friday, March 10, 2023 as we profile businesses, and highlight future opportunities. The evening will include an Award Presentation, Local Food and Music, prizes and more!
The Dance portion of the evening is open to the public.
Award Categories
1.Business Excellence Award
Recognized for its dedication, and contribution to the economy.
Leadership, in community and in the workplace.
A good employer, who delivers an outstanding product or service.
Encourages growth in its community and works with others to see economic growth.
2.The Inspirer
An employee or employer that is making a difference in its community.
Inspires community, drives change on the Great Northern Peninsula.
Makes a difference, not just to the economy but the future of people living in the region.
3.New Business of the Year (presented to a business in operation less than five years)
New to the scene, this business knows what it takes to make it work.
Has proven success in its relationship with community, customers, or clients.
Building a solid foundation to succeed and sustain.
4.The Big Dreamer
Whether it's in technology, innovation, or commerce this business has a dream and it's made a difference.
From the coffee shop next door to innovations in industry. We want to hear about a business on the Great Northern Peninsula that started with a dream.
Addressing challenges or doing something new this business sees the GNP as a place of opportunity.
5.Chamber's Choice Award (presented to a business or employee)
Delivers a high-quality product or service in St.Anthony and Area
Builds momentum, encourages growth, while adapting to the GNP.
Supports the Chamber of Commerce's vision for growth and thriving communities.
Nominations are now closed. Thank you.
LIST OF CURRENT CHAMBER MEMBERS TO NOMINATE:
Western Petroleum